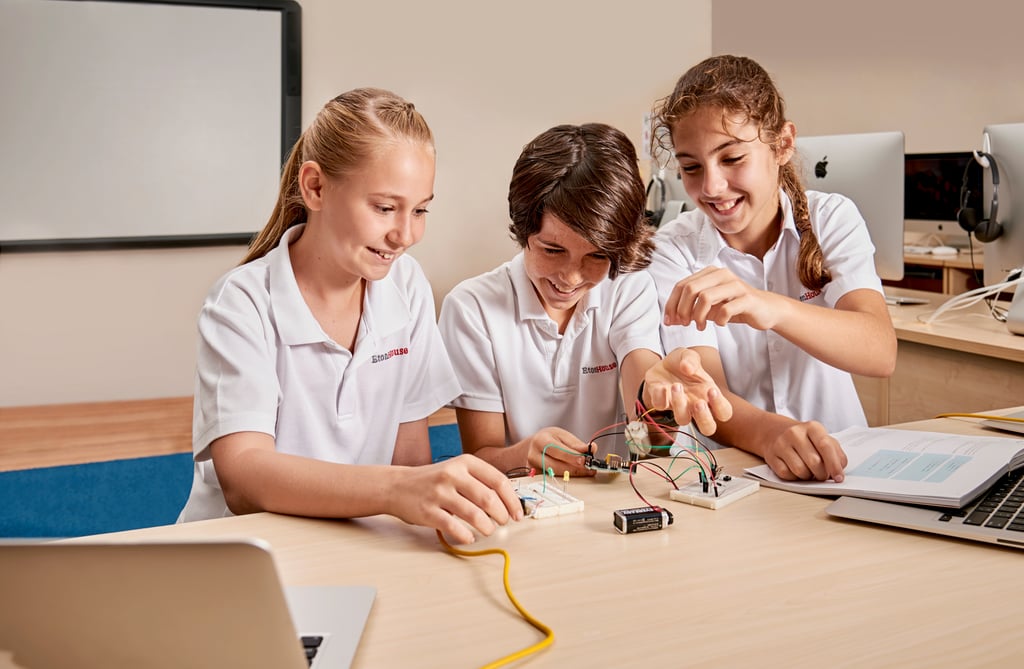 The international baccalaureate diploma, a very well established and highly regarded international qualification which started in 1968, continues to grow in popularity despite its reputation for being "too difficult" or only for gifted students. There are now 4783 IB Diploma schools across the world, and since 2012, the number of IB programmes offered worldwide has grown by almost 40%. There are approximately 150,000 students of all different abilities and backgrounds who graduated with the Diploma in 2017, and a total of 1.5 million Diploma graduates in 136 countries.
However, is the IB Diploma programme really too difficult and is it only for gifted students?
Top myth about IB DP - It is "too difficult."
An IB Diploma student will study subjects across six different groups as well as those in the core which may be more than what they are required to do in an A Level or AP course. Furthermore, the IB Diploma is a two-year programme of study, whereas some subjects at A Level and AP can be completed in a year.
The content demands of the actual subjects of the three courses are similar. However, IB students are required to choose subjects from each group, while A Level or AP students can select only the subjects they would like to study. Therefore, a student in A Level or AP, can, at age 16, decide to stop studying maths and sciences and just focus on literature and arts, whereas an IB student must continue to develop a holistic education until they are 18.
Seeing that the IB is an internationally focused curriculum, it strives to develop global citizens by ensuring that all Diploma graduates have studied two languages.
Why should students choose the IB Diploma?
A well organised and committed student can be successful at the IB Diploma, and access to the IB is not limited to an "elite". The IB actively works to support students with learning needs and has developed programmes such as mother language to ensure that it is accessible. Students who study the IB Diploma cope well with transitioning to the university as they have developed investigative and research skills through the Extended Essay and critical thinking skills through Theory of Knowledge. Therefore, building their subject knowledge and skills to a high standard.
What are the benefits of IB Diploma?
Students are accepted at the best universities, international schools and colleges worldwide. The depth and breadth of the Diploma enable students to offer that bit extra, not only in their university application but also within future their career. The structure of the course enables students to study a wide range of subjects, rather than narrowing their choices as they would in the A Level or AP programmes.
The core elements of the IB allows students to develop critical thinking, research skills, and to continue with sports or arts subjects as part of their course through CAS. These skills are essential to the 22nd-century workplace, as students are learning for jobs that do not yet exist.
The IB programme is academically rigorous, but it also goes beyond academic learning. Special components of the syllabus encourage reflection and experiential learning, such as the Theory of Knowledge course. Students are challenged to evaluate how they know, and also what they know.
Through the IB diploma programme, students learn to look at the world through different cultural perspectives. They study two languages, which provides an essential foundation for being genuinely engaged in the 22nd century.
As the only qualification which is truly international in its design, students can follow university or career options within a global market.
How does this help with my child's university application?
Research has shown that students graduating with the IB Diploma have a 57% greater likelihood of attending one of the top 20 UK universities, compares (compared) to students who study the traditional A Levels. Studies show that IB students are 21% more likely to be admitted into the United States' most prestigious universities.
IB students will also fare better after education, compared to students of similar prior attainment, and they will also earn more on average than their A Level counterparts. The report, by the Higher Education Statistics Agency in the UK, too shows that an IB student is more likely to gain a first-class honours degree than an A Level student (23% versus 19% respectively).
A simple Google search will provide a plethora of articles from respected UK newspapers such as the Independent, the Telegraph, the Guardian, which have all reached the same conclusion - when it comes to a pre-university course, the IB Diploma is the best there is.
"IB is well known to us for excellent preparation. Success in an IB programme correlates well with success at Harvard. We are always pleased to see the credentials of the IB Diploma Programme on the transcript. GPA is not nearly as important a factor in university admission as the IB Diploma. If a student has to choose, choose the Diploma over protecting the GPA." Marilyn McGrath Lewis, Director of Admissions, Harvard University
What do IB graduates think?
"The IB program prepares you for any life activity—it should become nationwide and be available in all schools. With the level of work and the rigour of the courses, you have to learn exceptionally quickly how to manage your time, and that is a skill that will carry into every aspect of my life." -Chanté Stubbs, Warwick High School, Class of 2006 Newport News, Virginia
"I think the IB programme is amazing. I would not be going to Harvard and be so confident if it were not for the program. There is room for individuality and independence in what you are studying, and it is lot of fun. Living near the US-Mexico border, I appreciate being able to use my bilingual education." - Diana Robles, Nogales High School Class of 2006 Nogales, Arizona